Two Bridges Neighborhood Council (TBNC) works with residents from surrounding buildings (Two Bridges Tower – 82 Rutgers Slip, Lands End I – 275 Cherry St and Lands End II – 265 Cherry St.) to provide activities and resources that are informed by resident feedback and participation, some of which include Free Family Movie Nights and monthly Community Outreach Tables.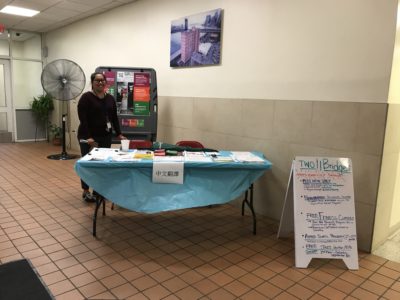 Free Family Movie Nights – Goldie Chu Community Room, 82 Rutgers Slip
Movies are selected by residents through dot voting activities every month.

RSVP is required for non 82 Rutgers Slip residents.
Past movies: Beauty & the Beast, Moana
Community Outreach Tabling (275 Cherry, 265 Cherry, 82 Rutgers Slip)
TBNC promotes programs and invites other organizations to provide social services that are needed by residents.

Past resources: SNAP Enrollment, World Trade Center Health benefits, New York Cares SAT Prep
Future tabling resources: Financial Literacy, Community Service Projects and College Preparation.
Do you live in 82 Rutgers, 265 Cherry, or 275 Cherry and have a suggestion for programming or resources?
Are you an organization and want to co-host a Community Outreach Table with us?
Contact:
Francine Jean
Health and Wellness Program Manager
(212) 233-7859