Two Bridges Neighborhood Council offers a diverse range of FREE exercise classes that are available to Lower East Side residents ages 16 and above. All classes are located in the Goldie Chu Community Room (2nd floor of 82 Rutgers Slip, Two Bridges Tower residence building), and scheduled to accommodate work and family schedules. Check out our events page for current offerings.
  
Please note our fitness class policies: 
All participants must sign-in before the start of every class.
All classes are first come, first serve. 
Participant belongings may be placed on the side before the start of class.
Unfortunately, we do not have child care available on site. Only fitness participants are allowed in the room during instruction time.
How do I join or sign up?
Attend one of our free classes and fill out an annual registration/waiver form.
Receive a Two Bridges Fitness Rewards Card to gain entry in to the building for future classes and earn points towards raffle prizes. 


    

Class Cancellations – Want to be notified via text if a class is cancelled? Sign up here.
---
Two Bridges fitness programs are made possible with support from Two Bridgeset Associates LP and in partnership with Shape Up NYC.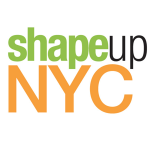 Support for this work was provided by the New York State Health Foundation (NYSHealth) and the Fund for Public Health NYC.