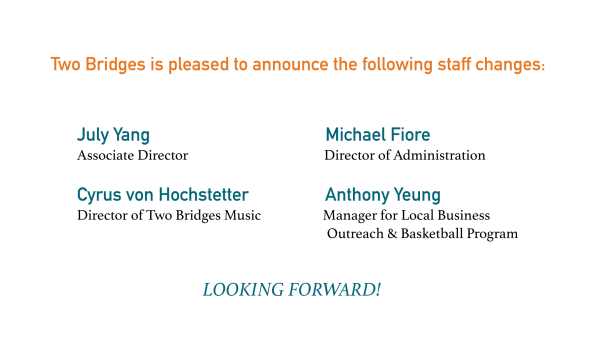 July Yang, Associate Director, was born and raised in Shenyang, Northeast China, and began her tenure at Two Bridges Neighborhood Council in fall of 2013. July worked as the founding director of the Two Bridges Music Program for three and a half years, where she focused on building students' intellectual developments through music education.  The program continues to operate under a set of high standards today. Holding two advanced degrees in music, July graduated top of her MBA class from Pace University in 2017. Understanding business skills can create meaningful, long-lasting impact, July hopes to combine her business acumen and passion for economic empowerment to help the residents, businesses, and other stakeholders in the Two Bridges area.
Michael Fiore, Director of Administration, holds a Bachelor of Science degree in Accounting from Hunter College and a diploma in Computer Programming from the Chubb Institute. He has furthered his IT studies at NYU and has worked for many years as a Consultant and Senior Programmer Analyst in the corporate setting. A life-long resident of the Two Bridges environs, he has also studied music and participated in the music ministry of St. Joseph's Church teaching children and adults to play guitar. He has organized food and clothing drives and was Coordinator for the 2016 Marco Polo Festival, presented by Two Bridges, in Little Italy and Chinatown.
Cyrus von Hochstetter, Director of Two Bridges Music, is a pianist, composer, singer and bandleader, with extensive training in classical music and jazz, yet steeped in a multitude of influences and genres. Since 2015, Cyrus von Hochstetter teaches piano at Two Bridges Music where he also developed a curriculum to teach composition to children and launched the Two Bridges Concert Series, an ongoing series of free concerts. His current band, Cyrus von H and the Hat Music, has performed at Joe's Pub in NYC among other venues and mixes music by Ellington, Gershwin, Schönberg and Cyrus' own. As a pianist, Cyrus has played at the Montreux Jazz Festival, the Caramoor Music Festival in Katonah, NY, the Felicja Blumental Music Center in Tel Aviv, Theater Rigiblick in Zurich, and at the Valley of Arts festival in Kapolcs, Hungary.
A graduate of the Manhattan School of Music, Cyrus studied with jazz pianists Garry Dial and Jason Moran. He earned a masters degree from NYU's Tisch School of the Arts in interactive telecommunications. Since 2008, Cyrus has studied piano and performance under Zitta Zohar, counterpoint and music theory with Paul Caputo and composition with Ira Taxin.
Anthony Yeung, Youth Coordinator, SBS Outreach Program Manager, holds a Bachelor of Arts in Business Management and Marketing. A native Lower East Sider, he has much-proven experience in supervising after-school, summer camp and youth athletic programs. He has coordinated numerous cultural events and athletic tournaments, including drug and alcohol prevention workshops for youth.