Since closure of the Cherry Street Pathmark was publicly announced in September 2012, Two Bridges Neighborhood Council (TBNC) has worked with community residents, organizations, businesses, and elected officials to protect and enhance access to fresh and affordable food in the culturally, economically, and linguistically diverse Two Bridges / Lower East Side area — which remains among the lowest-income neighborhoods in Manhattan, and has one of the highest rates of reliance on food subsidy benefits.
On December 19, 2013, TBNC officially launched an innovative "buy local" campaign, Two Bridges NeighborFood, aimed at keeping local dollars in the local community, supporting small businesses and strengthening social ties among neighborhood residents.
The first phase of the NeighborFood initiative was the release of a detailed Grocery Guide to the neighborhood. The tri-lingual guide enables residents to locate the goods & services they require, while directing customers to local businesses.  A year of research and community outreach to residents and businesses is reflected in the guide, part of a larger strategy strengthen the local food network and small business economy, including bodegas, small-scale groceries, fruit and vegetable stands and pharmacies.
TBNC received a pro bono service grant from desigNYC in 2013 to work with internationally known designers TODA to design the guide, which will be available in digital & paper form. The printed guides continue to be distributed through a network of neighborhood organizations and business, and is available in three languages: English, Spanish, and Chinese (to view guides click the images below).
Note: the Two Bridges NeighborFood Grocery Guides were updated in the Spring of 2016
Over 85 store-owners across the Lower East Side, Two Bridges and Chinatown worked with our survey teams to report essential data on food availability, food subsidy access, store infrastructure, and distribution networks. TBNC developed the guide in partnership with Urbane Development, with generous support from NYC Department of Small Business Services, and The New York Community Trust.
Council Member Margaret Chin (District 1): "This Neighborhood Grocery Guide will be an excellent resource for Two Bridges residents and the local community who want to learn about the affordable, healthy, diverse food options this area has to offer.  This guide will also help support our small business neighbors, stimulate our local economy, and keep our hard-earned money in the community. I thank the Two Bridges Neighborhood Council for their ongoing commitment to serving the Lower East Side."   Victor Papa, President, Two Bridges Neighborhood Council: "We want to foster a bond between local residents and their local grocers. This bond keeps the money here, increases choices, assures prosperity for local businesses, and better healthier choices for our families."
---
Press Coverage on NeighborFood:
Bowery Boogie: Two Bridges Neighborhood Council Launches 'NeighborFood' Campaign
Downtown Express: Marking New Path to Affordable Food
DNAInfo: Tours Will Help Locals Find Low-Cost Fresh Food South of Manhattan Bridge
The Lo-Down: Two Bridges Grocery Guide Released
NYC Small Business Services: Exploring the Diverse Markets of Two Bridges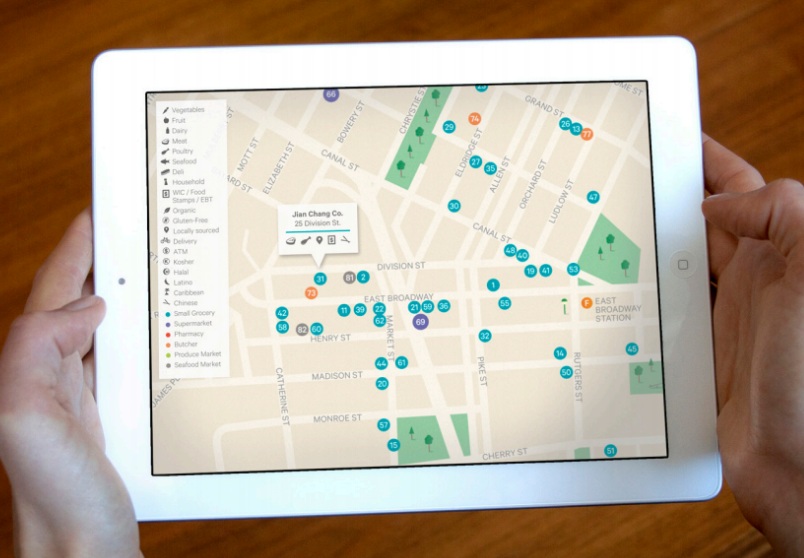 Our printed NeighborFood Grocery Guides can be found in the following locations: