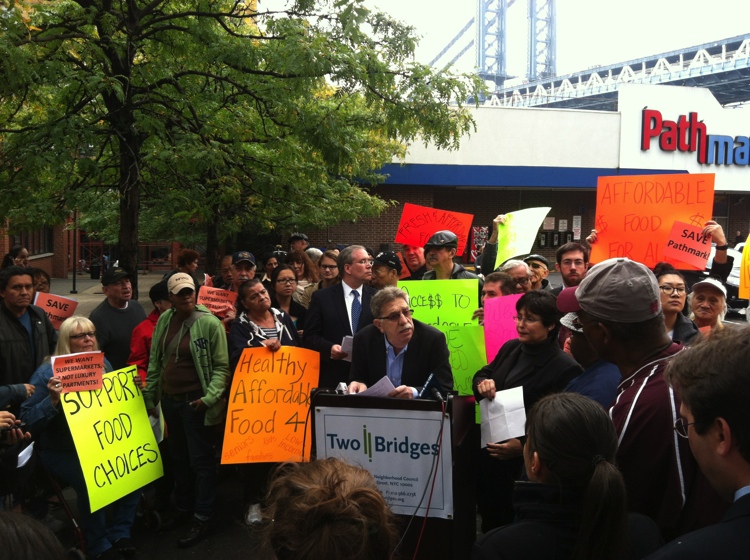 For over 30 years, Two Bridges has led community advocacy around fresh & affordable fod access in our neighborhood.
Two Bridges Neighborhood Council is committed to protecting and enhancing access to fresh and affordable food in the Two Bridges neighborhood. Two Bridges, on Manhattan's Lower East Side is an ethnically and economically diverse community. It is, however, among the lowest-income neighborhoods in Manhattan, and has one of the highest rates of reliance on food subsidy benefits. In the late 70s and early 80s, Two Bridges & Settlement Housing Fund led the fight to bring a full service supermarket to our neighborhood, resulting in the construction of a Pathmark Supermarket on lot 8 of the Two Bridges Urban Renewal Area. The 24-hour Pathmark Supermarket & Pharmacy have served our community for almost 30 years (1983 to 2012).
In late September 2012, Pathmark Supermarket announced its intention to close before the end of the year. Its replacement is likely to be a market-rate residential tower. A fixture in the largely low-income residential neighborhood for 30 years, Pathmark's closure has both immediate and long-term implications for the residents of the Two Bridges neighborhood.
Two Bridges & James Johnson-Piett, principal of Urbane Development, one of the nation's leading experts on inner-city food access, are developing interim and long-term strategies for serving the needs of the Two Bridges community. Mr. Johnson-Piett consulted on the Going to Market Plan: New York City's Neighborhood Grocery Store and Supermarket Shortage; serves on the Board of the Community Food Security Coalition; is a co-convener of the National Healthy Corner Store Network; and is an advisory council member to the USDA's Healthy Urban Food Enterprise Development Program.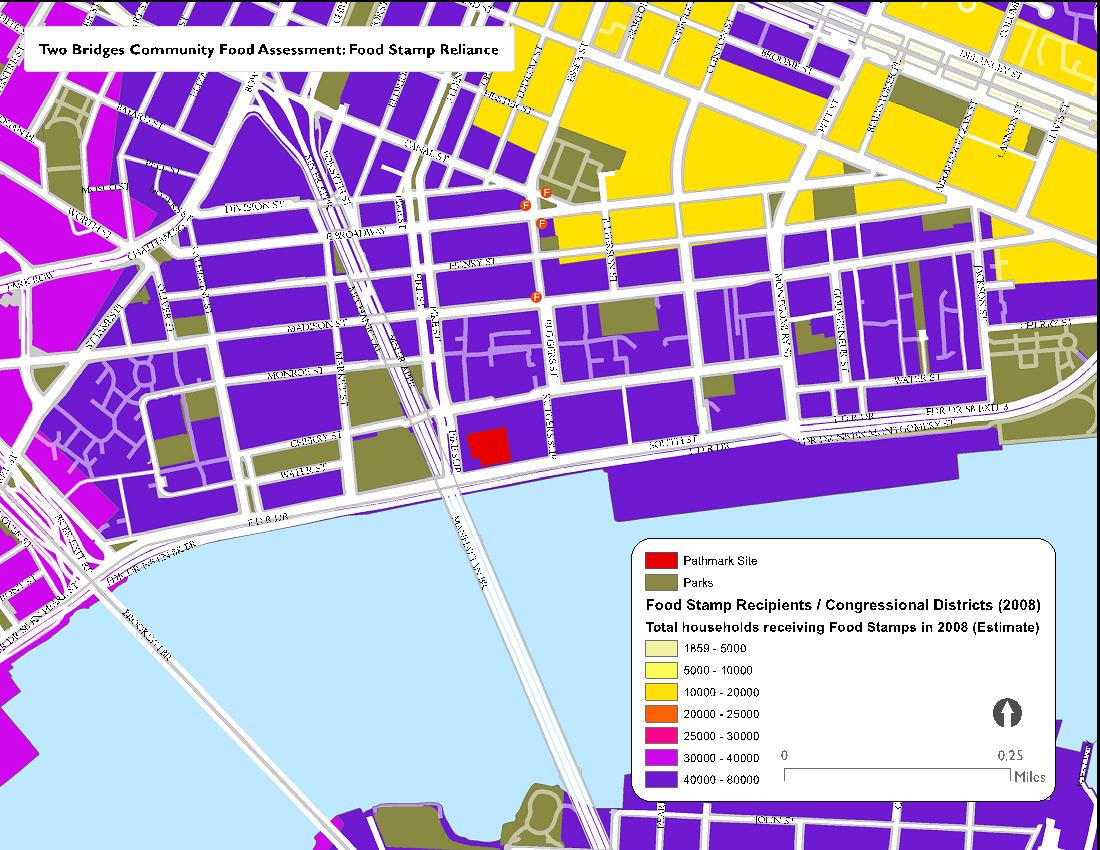 The Two Bridges Neighborhood has one of the highest rates of food stamp reliance in New York City.
The goals of the Two Bridges-Urbane Development Collaboration include: Creating interim affordable food access; developing a more resilient, affordable fresh food network in Two Bridges; and strengthening our local economy. To achieve these goals, Two Bridges and Urbane Development developed survey tools for both residents and local businesses to gauge the level of need and opportunity in the neighborhood.
Through public meetings, surveys and community-based programs, Two Bridges is engaging residents in a larger discussion about food access, quality, nutrition & health in the neighborhood.  In November and December 2012, we gathered over 380 survey responses from residents to better understand their needs and shopping habits. The multilingual survey (English, Spanish & Chinese) was made available online as well as in paper format. Organizers with GOLES assisted in the distribution of the paper surveys, as did residents of the neighborhood.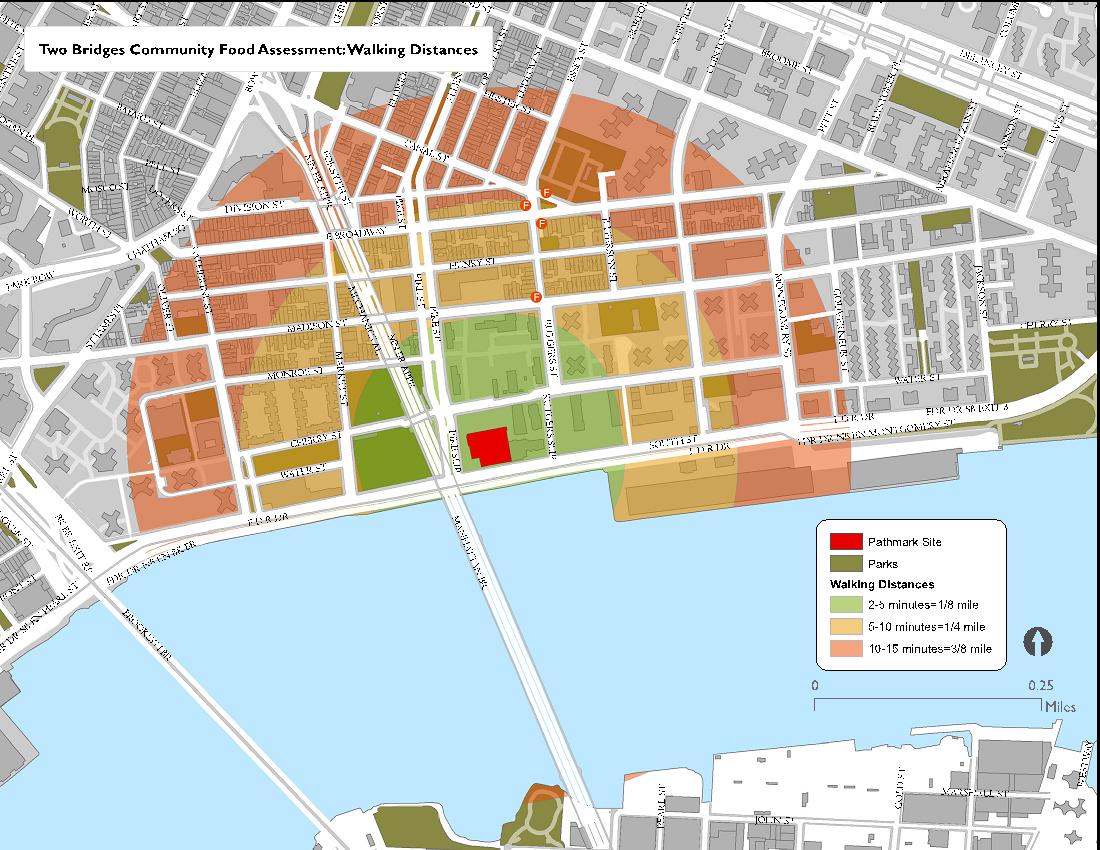 Surveys reveal that the majority of residents do their shopping on foot. Understanding the nature of people's shopping habits will help us design relevant solutions to the neighborhood food access issue.
In December 2012 and January 2013, Two Bridges conducted a detailed survey of local food-related businesses to understand this neighborhood's existing capacity to feed residents. Our goal is to strengthen the food network and local economy, including bodegas, small-scale groceries, fruit and vegetable stands and pharmacies. Over 85 store owners across the Lower East Side, Two Bridges and Chinatown worked with our survey teams to report essential data on food availability, food subsidy access, store infrastructure, and distribution networks. The survey process connected us to store owners interested in working with us to build and enhance their businesses to better serve the needs of the neighborhood.
Together, the survey data and additional research will be compiled to create a grocery guide to the neighborhood. The guide will serve as a roadmap and index of affordability to allow residents to locate the goods & services they require, while directing customers to our local and locally-owned businesses. Two Bridges received a service grant from desigNYC 2013 to work with internationally known designers TODA to design the guide, which is currently available in paper form and digital.