When:
March 24, 2018 @ 4:00 pm – 6:00 pm
America/New York Timezone
2018-03-24T16:00:00-04:00
2018-03-24T18:00:00-04:00
Where:
Frank T. Modica Community Room
80 Rutgers Slip
New York, NY 10002
USA

Contact:
Cyrus von Hochstetter
646-355-8397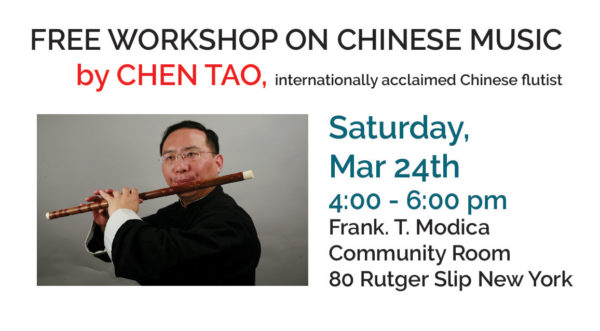 Two Bridges Music Concert Series presents:
FREE CHINESE MUSIC WORKSHOP
presented by internationally acclaimed Chinese flutist Chen Tao

A workshop on traditional Chinese Music, exploring the relationship between music and other arts such as Chinese calligraphy, Chinese painting and opera. Acclaimed musician Chen Tao will demonstrate and play different traditional Chinese flutes and wind instruments.
About Chen Tao:
An internationally acclaimed Chinese flutist, music educator, composer and conductor of Chinese orchestra, is the founder and director of the Melody of Dragon, Inc., the co-founder and director of Melody of Dragon & the Youth, the artistic director and conductor of the Chinese Music Ensemble of New York and conductor of New Jersey Buddha's light Youth Chinese Orchestra. The New York Times called Chen Tao, a "poet in music" and his playing "a miracle of the oriental flute." Conductor Herbert Von Karajan praises him as an artist who "performs with his soul." Chen Tao is a graduate and former Associate Professor at the prestigious Central Conservatory of Music in Beijing. He was the winner of the 1989 National Folk Instrument Competition in China and has toured throughout U.S., Germany, Italy, France, England, Holland, Finland, Singapore, Hong Kong, Taiwan and Macao. He has collaborated with the BBC Philharmonic and the Notional Orchestra of Lyon. His playing can be heard on several soundtracks of Hollywood movies including Seven Years in Tibet, Corrupter (with the New York Philharmonic) and on the PBS documentary Under the Red Flag.
著名中国笛子演奏家,音乐教育家。美国神州中乐团团长及创始人。曾任纽约中国民族乐团的艺术总监和该团的指挥。移居美国前,陈涛曾任职北京中央音乐学院民乐系。陈涛的音乐,融汇了南,北笛子风格之精华。音色圆润、醇厚,技艺娴熟、辉煌,魅力独特。曾于1989年全国民族器乐比赛中荣获第一名。并成功地与世界一流的交响乐团如:英国BBC交响乐团,法国里昂交响乐团,葡萄牙国家交响乐团,比利时国家交响乐团以及纽约爱乐乐团,旧金山交响乐团合作,赢得极高声誉。陈涛曾被纽约时报誉为"音乐诗人""神奇的东方魔笛",已故世界著名指挥大师卡拉扬称其"用心灵在演奏",纽约世界日报,星岛日报称其为"笛王"及"笛子艺术大师"。
Attendance is FREE
RSVP recommended
---
ABOUT THE TWO BRIDGES MUSIC PROGRAM:
Two Bridges Music continues its series of music concerts and performances, free and open to the public. On a regular basis Two Bridges Music invites professional musicians of all styles and genres to perform for and share their talent with our local community.
Two Bridges Music provides high quality music lessons at an accessible cost to students of all levels and ages. Lesson are offered to beginner and advanced students alike and we successfully prepare students for certifications and exams such as ABRSM. At Two Bridges Music we believe in exposing each student to the highest level of musicianship. All of our instructors are therefore professional musicians and performers with degrees from the most prominent conservatories. See Two Bridges Music's lessons and class offering here.
---

This program is supported, in part, by public funds from the New York City Department of Cultural Affairs in partnership with the City Council.